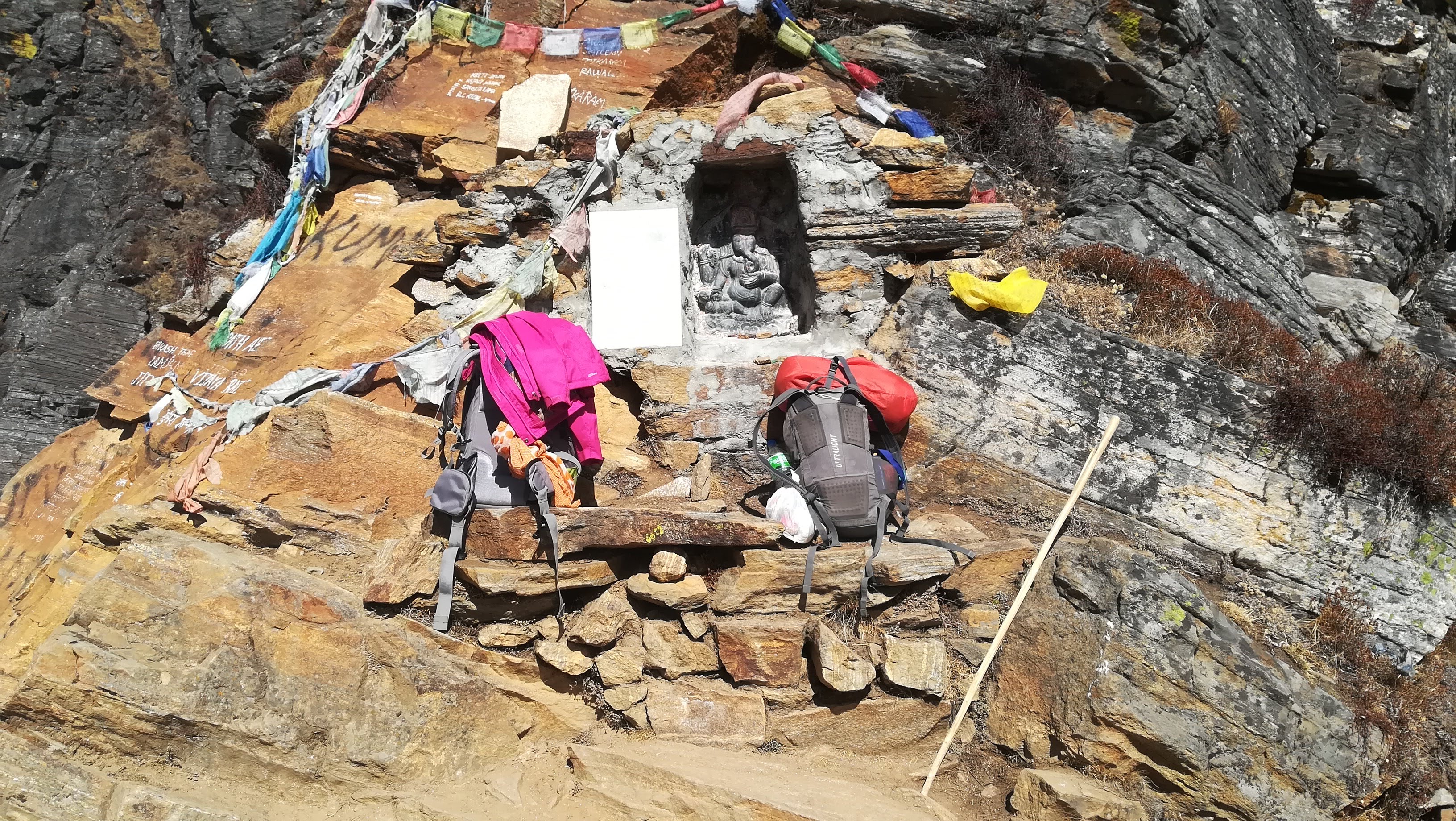 …Himalayan adventures!
While I was trekking on the Annapurna circuit, I was quite impressed by the amount of not-so-useful things people were carrying with them. I mean, you're going to hike for more than 10 days and you didn't try to keep your backpack light? At first, looking at the 70-liter backpacks around me, I thought I must have forgotten something important in my 22-liter bag. Well, actually I don't, so I presume, people tends to overpack (especially in a new situation like a long trek can be).
The decision of not hiring a porter, pushed me to optimize my backpack. No way I could walk for more than 100 km with a big and heavy backpack. My travel agency was very kind and even if I only booked with them the bus ticket to Besisahar, they took good care of my 60 liters backpack and even transfer it from Katmandu to Pokhara for free. I was therefore free to keep my back safe and able to suffer much less!
So, here my packing list (including what I was wearing):
Shoes: trekking shoes. Low ankle trail running shoes were perfect for me. Flip flop could be useful but not absolutely necessary.
Pants: a pairs of cotton light pants, a pair of warmer trekking pants, a pair of leggings. You can take a short instead of the cotton pants if you prefer. Leggings are extremely useful as an extra layer when it's freezing cold.
A waterproof windproof jacket
A warm fleece sweater. Mine is a cap sweater with fur inside…sooo warm!
A thin down jacket. Light and very compact, and a perfect extra layer if its getting cold.
2 long sleeve shirts, 4 t-shirts/tops,
4 panties, 3 socks: including a pair of ski socks (perfects for the freezing nights and in case of walking on the snow)
More than mandatory!!! Your eyes can really get burned easily.
Wool headband. Or a warm hat if you prefer. As I had 2 cap jackets I opted for the headband. You can buy beautiful colorful ones on the way (as well as in Katmandu of course!)
The sun can beat very hard!! So, don't forget the…
Sunscreen as well!
Warm wool gloves are definitely ok, you don't need big bulky ski gloves.
A big but light scarf can be useful to protect from the sun and of course, keep warm your throat.
Lamp, in case the full moon is not there to light your path up when you'll attack the pass.
Candle and matches: the ultimate back-up plan is you need light
Multiuse Swiss knife, a must-have! To cut, to open cans and bottles of wine, to take care of your nails, teeth and eyebrows (oh yes!)
Pharmacy/first aid kit. Do not overload it. You'll find a doctor and medicines even up to Manang. if you need. My essentials items are paracetamol (my joker medicine for almost all my health problems), something for diarrhea, Tiger Balm, plasters, bandages, tape, antiseptic solution (or wipes) and a space blanket.
Beauty case: stay minimalist. Solid soap (to wash you and your clothes), toothbrush and paste, deodorant, lip balm and moisturizing body lotion (this could sound as a not-so-minimalistic item but, believe me, your skin, at 4000mt, is going to dry up like never before!)
A good book and a notebook. The amazing Ella Maillart feed my brain during the trek.
Money, passport and the permit!
It works perfectly also as a camera. Take also a power bank if you have one and don't forget to sleep with them! Batteries really hate the cold. They could die very easily and fast.
Sleeping bag. It's not mandatory but it can be very useful especially if you don't like the cold. If it's not the high season you can usually ask for an extra blanket but, if you want to avoid the risk to sleep with only one blanket (that is usually not enough), take a sleeping bag with you. As it takes a lot of space, I attached mine to my backpack.
Rain cover for the bag. Or, you can wrap all the things inside your backpack with plastic bags. It also works well.
Walking sticks. I really don't like modern walking sticks, I think they are ugly, not eco-friendly and way too high-tech for the purpose. They are useful though and they really can help you on the way down from the Thorang La Pass, especially if there's some snow. So, let's have organic sticks! No need technology when you have bamboo and woods around you (and if you struggle to find a good one, there're nice old men selling wood sticks just after Manang)
Last, but not least…
Toilet paper (more than vital! Always by my side!)