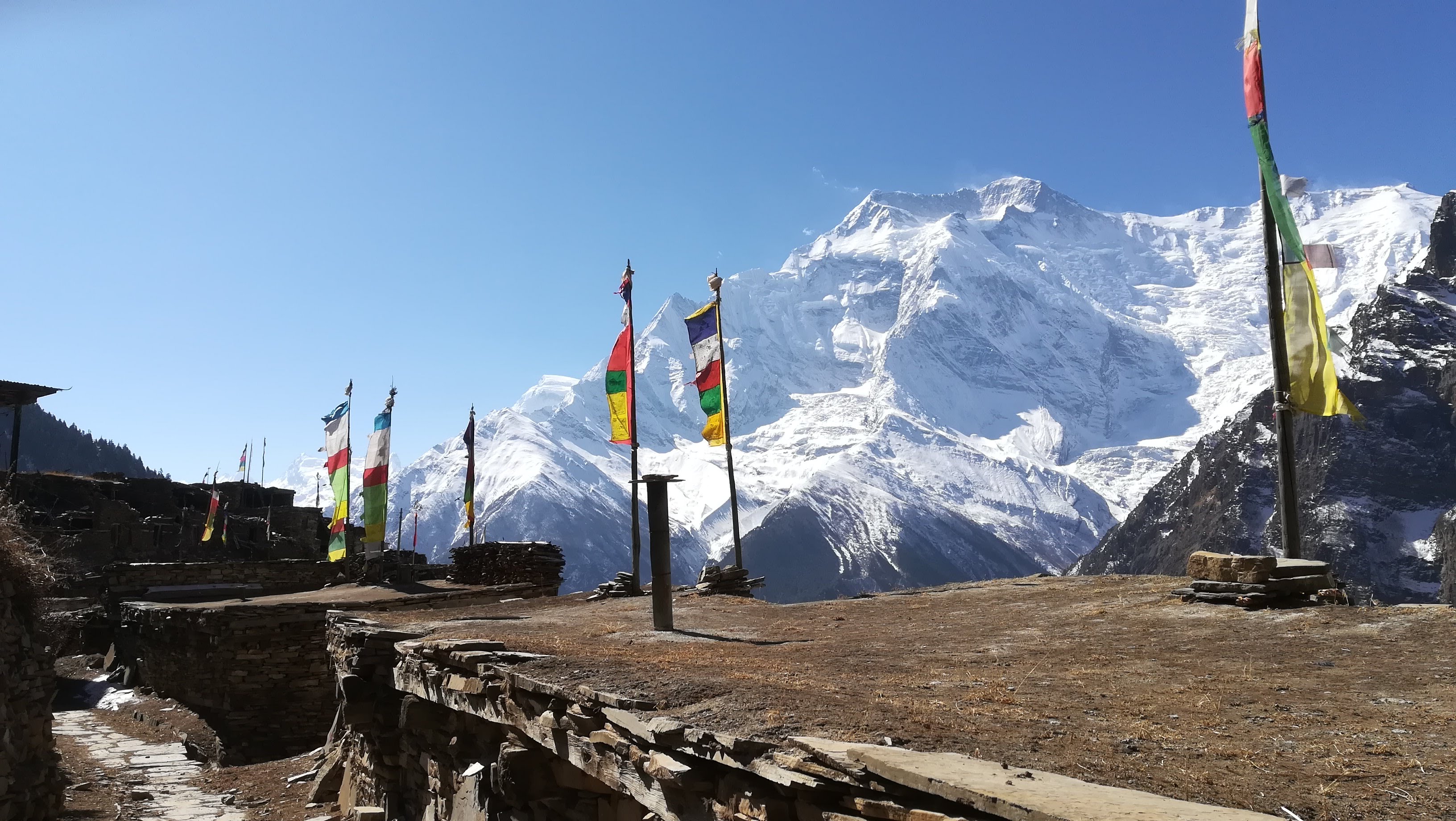 (also useful on other Himalayans treks!)
Look behind you, don't miss the view!
As you're hiking on a circuit, you're not going to go back down from the same way you went up. So, be sure not to forget to stop and turn your head from times to times: an amazing view is behind you as well!
Keep your backpack light
Please, do it for your health and for your porter health (if you have one)!
On the Annapurna circuit (as well as on other popular trek on Himalayas) you can find anything you need on your way, so it's easy to pack light! You don't need a tent because there's a million of guesthouses on your way, don't need to take food with you because it's everywhere, and you just need to take the water you need for a 2 hours hike. You will enjoy a hot tea and fresh Tibetan bread in one of the many scenic little restaurants.
Make good friends
Nepal is a great place for hiking, for the landscape (thanks the Himalayas!) and because it's very hard to get lost! You can go on a hike alone (no porter, no guide) very easily even if it's your first time on a long trek. It's easy because the treks are very popular so you're going meet a lot of hikers with whom you can (if you want and if you like them) share miles, meals, fireplaces and chocolate!
These hikers are also the people that could save your life if you're in danger, so, be nice and social because "happiness only real when shared" and it could save your life!
It's also good, in order to save your life or have help and good advises if you need, to be friends with other people's guides and porters. They are always super nice with solo hikers and they know the mountains the best!!
Listen to your body
The mountain can kill you, no mystery on that. There's no need to list all the possible ways it can happens. But, as for the fact that you could be hit by a car while walking down the street, the way to avoid it, is to pay attention. Pay attention to what your body says to you and stay focus.
High altitude sickness can be dangerous if you underestimate it. You're going to hear all kind of stories of people who died, who get rescued by helicopter, who felt very sick or who were caught in a snow storm. Of course, these things could happen if don't take care of yourself and you ignore your limits. The only way to overcome your limits is to accept them. If it's the first time you climb so high or you trek for so many days, you should pay attention to what your body is saying to you. If you're not feeling well, don't rush. It's not a competition. Not with the other hikers, neither with yourself. Take it easy, find your own pace, drink a lot of water, rest for 10 minutes or a whole day, have a hot ginger tea and chapati with eggs, and, if you don't feel comfortable to go on just make a U turn. I'm sure you've already really enjoyed the trek and the magnificent Nature so far, isn't what you were looking for?
Listen to your mind
Hiking is a beautiful kind of meditation. Step left, step right, step left, step right…
It's perfect for people who find difficult to sit crossed-legged, stay still and focus on the breath. When you walk or if it's an easy hike, it can be difficult to just focus on your step and reach out mindfulness. But, as the path goes up steeply, as your breath get short, as rocks and wooden bridges make the way tough, as well as the snow make it slippery, you are forced to stay focus on where you're going to put your foot next. The more you go higher, the less you got oxygen in your body, the more you struggle. During these moments, when your heart start pumping fast, listen to its beat, let it give you the pace and let your steps follow it. You'll have the feeling to be in a perfect union with your body and mind. You keep going and soon you'll face the summit, the pass or just that hot ginger tea you were dreaming of.
Say thank you!
While trekking in Nepal there's so many things to be grateful for:
The local people in the many villages on your way providing you hot food and fireplaces (and occasionally hot shower!)
Porters and guides making your life easier
Hikers making you feel like you're not suffering alone, sharing chocolates with you, encouraging you to keep going or take a rest when you need and celebrating like a team when you all get the top
The snow that, like always, add a lot of magic to everything!
The beautiful rhododendron forests and the little flowers growing between the rock steps that motivate you (especially while you're in the fog!) and make you think you could try to be as strong as them!
The mountains, the highest mountains you ever seen in all their greatness, mountains that make the Beauty around you so pure and perfect.
Yourself, because…you did it!
So, just say it loud, THANK YOU!
Every peak is within reach if you just keep climbing
(Quotes by a Nepali notebook bought in a paper shop in Bhaktapur)
Keep it always in your mind!